Tony had many scrapbooks, but his favorite is the one he started around 1930 using his father's hardcover book "The Home" that he glued newspaper and magazine articles into that he found meaningful about aviation. Little did he know, or maybe he did, that he was preserving aviation history so the stories would always be shared and never forgotten! Before my father covered these pages with articles, this book outlined many home plans that you could browse with full descriptions and basic floor plans detailing the layouts. Towards the back, there is an order form to purchase complete plans and specifications for any of the model homes illustrated in this book. The price range is between $5 and $40 and includes an estimate of cost and materials list. I understand that my father's parents didn't have a lot of money during his childhood. They immigrated to Jamestown, New York, from Italy in the spring of 1920 when he was eight years old. He learned to utilize anything available by re purposing or upcycling, and this scrapbook is just one example he used throughout his life. He did this with aircraft hangers too, but I'll save those stories for another time. The back cover is missing with some pages torn and discolored, but it's in reasonably good condition for being around ninety years old!
I've been going through my father's scrapbook and found a loose page that he saved from one of his "The AOPA Pilot" magazines. At first, I thought he kept it for the advertising for the new Narco Mark VI 190 channel crystal controlled VOR/LOC. I didn't find a date, but it is page 105 and 106 from that unknown issue. When flipping this page over, I realized it was an article about Vincent Burnelli and his revolutionary CB-16 multiengine plane. Granted, it is only part of the article, but there is enough information about his CB-16 that I find him extraordinarily fascinating and yearning for more! I hope you enjoy this story as much as I did while researching and writing about this revolutionary aeronautical engineer, Vincent J. Burnelli.
Vincent Burnelli designed and built his first successful airplane, the Burnelli-Carisi Biplane, with his friend John Carisi at Maspeth, a borough of Queens in New York, in 1915 under the Burnelli Aircraft Company. The above photo shows the open cockpit "pusher" biplane at Hempstead Plains Aviation Field located east-southeast of Mineola, Long Island, New York. This field was renamed Roosevelt Field in 1919 in honor of President Roosevelt's son, Quentin, who died during air combat in World War I. It didn't take long for the two men to make money with their new biplane, and it was a great way to fund future projects. "We used it for barnstorming," Mr. Burnelli explained. "You could make $500 to $1,000 in those days working a fair, and that was big money." Vincent designed a night fighter a few years later with hopes of using it as a combat plane in World War I, but things didn't work out, and he eventually sold the airplane to the New York Police Department for their aerial operation.
At the end of World War I, Alfred Lawson, founder of the Lawson Aircraft Company, hired Vincent Burnelli as an aeronautical engineer and six engineering specialists to work on a new project idea of a sizable commercial aircraft to transport passengers regularly between major cities. Work began in March 1919, and within five months, the team built the first multi-engine passenger aircraft ever produced in the United States, the Lawson C-2 biplane "House on Wings." This large aircraft features a 91-foot wingspan, is 48 feet long with a gross weight of 12,000 pounds. Powered by two 400-hp 12-cylinder Liberty engines mounted between the wings on each side of the fuselage developed a cruising speed of 110 mph with a range of more than 400 miles. Landing on two tandem wheeled landing gears mounted to the bottom wing inline with lower engine bracing gave maximum support, and a large tail skid supported the rear. Laminated wood bulkheads replaced the traditional interior wire and bracing commonly used on large bombers to allow passengers to walk freely through the streetcar style fuselage. Seating accommodates 18 passengers with eight additional folding seats when needed. For the first time, an enclosed cockpit design keeps the flight crew warm and dry by adding a roof and a Flexiglass front panel with a small sliding window on the co-pilot's side. All previous airplanes in this era use the conventional open cockpit design. "Lawson Air Line" adorned each side of the fuselage in large letters.
On August 27, 1919, Alfred Lawson, "Captain in Command" along with his flight crew Charles Cox "Steersman," Vincent Burnelli, Carl Schory "Engine Mechanic," and Andrew Surini "Mechanic" departed the New Butler flying field in Wisconson headed to Ashburn Field in Chicago. Initially, the flight crew thought they were on a second test flight, but Lawson had other plans. Shortly after takeoff, Lawson ordered Cox to follow the shoreline of Lake Michigan south towards Chicago. "For one thing," Burnelli later recalled, "we had planned on having several test flights; you just don't build a plane from scratch in six months without encountering a bug here and there. For another, none of us had brought even so much as a toothbrush. Actually, however, we were all too excited and enthused to really care much where we went, although I doubt if I could say the same for our creditors in Milwaukee." And so it begins, Alfred Lawson's planned demonstration tour of the first airliner covering two thousand miles in over two months and ending on November 15, returning to the New Butler flying field. Shortly after this flight, Mr. Burnelli left Lawson Aircraft Company to pursue other avenues in his ever-challenging quest of designing and building the perfect aircraft.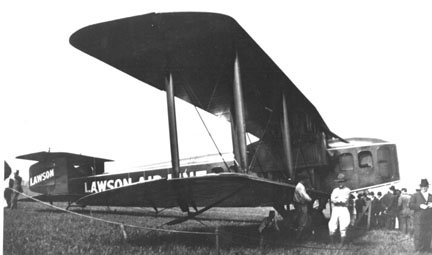 1919 was a pivotal year for Mr. Burnelli when he changed his design approach from the conventional fuselage to his new airfoil-shaped fuselage stemming from his disappointment after his involvement and flight experiences with the Lawson C-2 biplane. The plane looked to him as a streetcar with wings. "The air is the roadbed of an airplane," he said, "and I decided I'd leave streetcars on the ground from then on." Being extremely fascinated with the flying wing and its efficiency, Mr. Burnelli started working on various transport designs of his "lifting body" wing type fuselages with twin tails or a tail-mounted on booms at the rear of the aircraft. He felt that these new fuselages could contribute about 40 percent of the lifting surface during flight and would be much safer in a stall or engine failure event. Not too mention the reduced structural loads on the wings, especially where the engines are mounted, and reduce the mortality rate in a crash due to the more robust flat rectangular shape of his fuselage. Mr. Burnelli's design also places the engines well in front of the passenger compartment to help absorb the shock of a crash and locates the propellers away from the passengers. Another advantage is the flight crew's partial access to the engines during the flight from inside the cabin.
In 1920, Mr. Burnelli moved from Lincoln, Nebraska, back to Long Island, New York, after a brief career opportunity at the Nebraska Aircraft Company when he left Lawson. Again, he struggles with other people's concepts and designs and decides it's time to start working on building his perfect aircraft. Once settled back in New York, he partnered with T.T. Remington to initially form the Airliner Engineering Corporation, but later merged as the Remington-Burnelli Aircraft Corporation in the same year. There he could focus on building a large transport aircraft using his new lifting fuselage design. With little time to waste, he finishes the RB-1 biplane in 1921 with a successful maiden flight at Curtiss Field in Garden City, Long Island, New York, in June that same year. The slab-sided airfoil-shaped fuselage of the RB-1 has a cabin width of 14 feet and can carry a maximum of 32 passengers. A luxurious, spacious lounge divides the middle section. Comfortable chairs are positioned beside the windows on each side of the cabin for a breathtaking view. There are two entrance doors on each side of the fuselage with access towards the rear just behind the wings. A vestibule separates the passenger compartment from the baggage and express compartment located in the fuselage tail section for easy access. Twin 550 horsepower Galloway Atlantic engines mounted in the nose powered this large airplane with partial interior access panels for in-flight service if needed. Two open-air cockpits sit on top of the fuselage and provide a 360-degree field of view for the pilot and co-pilot. Throughout the remainder of the year and into 1922, Mr. Burnelli promoted his RB-1 through promotional advertising and scenic rides. The "Flying Festival" at the Curtis Field, where he stored the aircraft, was a popular event with a high turnout.
An upgraded RB-1, the RB-2 Freighter was built in 1923 with improved control surfaces, twin 650 horsepower Galloway Atlantic engines provided more power, and corrugated metal construction replaces the fabric skin. It was the most significant transport aircraft ever built with an unladen weight of 5 tons and a gross vehicle weight of just under 9 tons! The passenger cabin could accommodate 25 people with standing headroom or converted to transport 6000 pounds of cargo with a flight crew of 3, the pilot, co-pilot, and mechanic.
With no potential sales and difficulty in marketing, his business partner T.T. Remington departed the company in 1924. During the same year, Mr. Burnelli partners with Thomas Garvin to form the Garvin-Burnelli Aircraft Corporation. The new partnership focuses on promoting the RB-2 rather than building a new aircraft. In 1925 the RB-2 carried a Hudson Essex automobile built inside the cabin on an aerial sales tour flown at Mitchel Field, Long Island, New York. The passenger cabin also featured a fully equipped office and could carry eight passengers. Even with so much exposure, the RB-2 was slow, and Mr. Burnelli couldn't generate interest for future investors or the financing that he desperately needed to finance production.
A few years have passed with no new interest in the RB-2, Mr. Burnelli is hired by banker and Skylines Incorporated president Paul B. Chapman in 1928 to build the CB-16 under contract on a progress payment basis for a total of $230,000 including design, engineering, and shop costs. He received the purchase order in May 1928, rented space and tools at the Aeromarine plant in Keyport, New Jersey, and completed the aircraft in December. The CB-16 was Mr. Burnelli's first monoplane, single-wing, executive transporter with all-metal construction and retractable landing gear to reduce drag. It was accessible during flight for minor service or emergency release. The open cockpit design remains from the RB-2, but the CB-16 is the first multiengine aircraft capable of single-engine level flight in the event of an engine failure. A new twin-boom tail design is incorporated to correct stability issues encountered by the RB-2.
The CB-16 has a wingspan of 90 feet, a length of 56 feet, is 12 feet 6 inches in height, and has an empty weight of 11,400 pounds. The gross weight is 17,400 pounds, and two 625 horsepower Curtiss Conqueror engines supply the power with a cursing speed of 140 mph. The climb rate is 800 fpm, 300 fpm with a single-engine, and a ceiling of 20,000 feet. The cruising range is 12 hours, with a landing speed of 62 mph. For night flying, an ample center searchlight illuminates the pilot's surroundings. With a spacious cabin measuring 12 feet by 18 feet, there is plenty of space for a large central lounge, ten swivel chairs, and soundproof luxurious tapestry and upholstery to finish the decor. An advanced air pressurization system maintains cabin ventilation and heating control while the unique washroom facility features running water. The stainless steel kitchenette has a hot plate and refrigerator with a radio in the center compartment.
A barge moves the unassembled pieces of the CB-16 to Newark Airport, which was still in construction at the time, to an available two-way cinder runway. The CB-16 is the first new design to be tested at the newly constructed airport, which officially opened on October 1, 1928, as the first major airport in the metropolitan area. With the assembly completed in December, a scheduled test flight occurs on a cold morning during Christmas week. Lieutenant Leigh Wade of Army 'round the world flight fame was at the controls with Jimmy Doolittle from Mitchel Field as a test collaborator. On that morning, Mr. Doolittle offered a parachute to Lt Wade. Still, he did not use it and instead brought along an assistant to operate the emergency release lever for the landing gear if they ran into trouble. Lt Wade landed after a successful 40-minute test flight and was eager to start performance tests the following day. Mr. Chapman chartered a bus on Christmas Eve to bring his friends to see his unique airplane, and Lt Wade offered to take anyone interested in a ride around the Statue of Liberty. When the aircraft landed, a line started to form for additional flights, and Lt Wade kept flying until dusk for four scenic flights carrying over a total of 50 passengers on this extraordinary holiday. In 1929, the CB-16 crashed during a test flight resulting from a maintenance error where the aileron cables malfunctioned. Thankfully, the pilot, Lt George Pond, and his co-pilot survived the crash, and it is a testament of how safe Burnelli's fuselage designs are.
Mr. Burnelli designed and built many more unique airplanes, the UB-20, the GX-3, and the CBY-3, to name just a few. He continued to promote his airfoil-shaped fuselage designs throughout his life but could never sell his ideas for mass production. He is a true pioneer in aviation history, and some people consider him a revolutionary genius. I hope you enjoyed my post on the CB-16, and I encourage you to research the life of Vincent Burnelli and his innovative lifting designed fuselages. You won't be disappointed, and maybe I'll find a few more clippings in my father's scrapbook on him to share with you.
Vincent J. Burnelli passed away at age 69 on June 22, 1964 (as reported by The New York Times on June 23, 1964, page 33).